Our Insights
CREW Networking
It is an exciting time of year for the CREW (Commercial Real Estate Women) Network! I have been attending various events across the country, and I wanted to share some of my experiences.
CREW NETWORK CONVENTION
This year the CREW Network Convention was held in Chicago. It brought together over 1,200 commercial real estate leaders for a week of networking, education, and professional development.
I'm a member of the programs committee for CREW NY, and am grateful that because of my involvement I was able to win a scholarship raffle for a convention registration. On my first day of the conference, I attended the Fall Leadership Summit. It brought together the top leaders across the CREW network to learn from one another's experiences and discuss successful leadership transitions. I also heard an expert speaker talk about critical business relationship-building skills. I found this session very insightful, and I learned quite a bit.
Throughout the conference, I bonded with my chapter mates and expanded my network. But the most fun I had was the 'Roaring 1920s' costume party at the Chicago mansion. I enjoyed the party, and went dressed as a dapper 1920's chap – with a mustache and all!
The conference was impressive, educational, fun, and ambitious. I can't wait to attend again in 2023!
LUNCHEON AT CLUB 101
Another CREW event I recently attended included the CREW NY members-only luncheon at Club 101 in midtown Manhattan. After a three-year hiatus, catching up with old and new friends and celebrating our members was great. I was sat with new acquaintances, Viviana Addo, founder of VMC Real Estate, and Simona Vigneron, Investment Manager Deka Immobilien (who are in the photo). The luncheon included delicious food and wine while celebrating the members who received the DEI Catalyst Award and Impact Award, along with scholarship winners.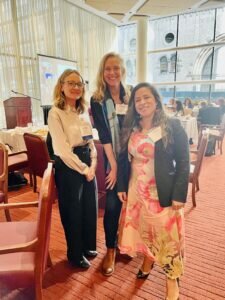 Lastly, I am excited to announce that I will be featured in a member spotlight for CREW NY sometime this month. When CREW releases the spotlight, check back on WB's social media to learn more about me and my role in the organization!