Our Industry
Business Impact of Reality Capture
WHAT I LEARNED ABOUT REALITY CAPTURE
I recently attended Imaginit's Business Impact of Reality Capture presentation with 20 other industry experts. I was excited to go to the presentation because I felt like it would help me build on my current reality capture expertise and how we can help clients make good business decisions. Here's what I took away:
THE BENEFITS OF SCANNING
The presentation's focus on a new laser scanner that makes reality capture even faster than before. In addition to the speed of a scanner like this, we talked about other benefits to scanning, including:
1. It provides consistent measurements; tape measures can be different (refer to the image below), but scanned dimensions are always the same.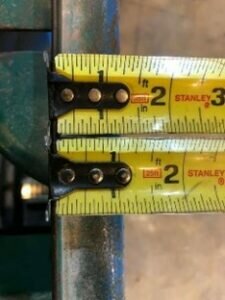 2. With Reality Capture, users can also have the data modeled by the design team when they have not yet visited the site.
3. Reality Capture equipment takes photos during the scan. Ultimately, this helps avoid revisits when an item is missing, or a note is unclear, saving time and money (especially if the space is under renovation already).
THE CHALLENGES OF THE DATA
Our discussion then turned to the data. This is one of the challenges of reality capture. Scan data can be hundreds of gigabytes in file size. Loading all of it can take time, depending on size, bandwidth, and disk space.
I learned about multiple approaches to storing data. One is where the data is hosted and processed on the web. This makes it easy to share links to walk-throughs. This option makes sense if it is going to be used for just a walkthrough, to revisit the site if needed. However, now the data is on the web, and owned by the hosting company. This may be an issue depending on the sensitivity of the project.
Another option is to send out files via file-sharing platforms using Autodesk Recap or a proprietary viewer to be able to host the data from corporate servers. These servers control the data and have access to it. With the advent of Azure and AWS, we can now host data on secure servers with a web-based application to stream data to end users. Challenges of this approach include how much space the server takes up on a server and how much time an end user might spend downloading the data.
The last option is hosting data via Cyclone Enterprise. This allows end users to view a virtual walk-through via the Cloud. With CloudWorx, a plug-in for Revit, AutoCAD, and Navisworks, that data can be streamed to those programs. CloudWorx allows users to connect to the Webserver via the plugin and choose the project. With the data in the CAD program, people can look at their data, start designing, do clash detections, and have an accurate view of the space while designing.
WE'RE HAPPY TO HELP
Each of these options has pros and cons, depending on what clients need. We're happy to help answer questions and decide what approach works best.
Reality capture benefits and how to scan data are two of the bigger topics we discussed during the presentation. If you have additional questions or are interested in more about how reality capture impacts your business, don't hesitate to contact me.